Junger Ankauf
Back
Diamond Stingily - Elephant Memory #27
2020
Diamond Stingily was born in Chicago, Illinois, both an artist and a poetess, she has presented her work at numerous readings and performances as well as group and solo exhibitions. Stingily mainly works in the genres of sculpture, readymade, and video, exploring autobiographical subjects via her own memories. She often uses everyday objects and adapts them to new contexts, bringing together things that are disparate. Her art addresses themes of racial identity, origin, social class, gender, and racism with an undertone of pain and violence.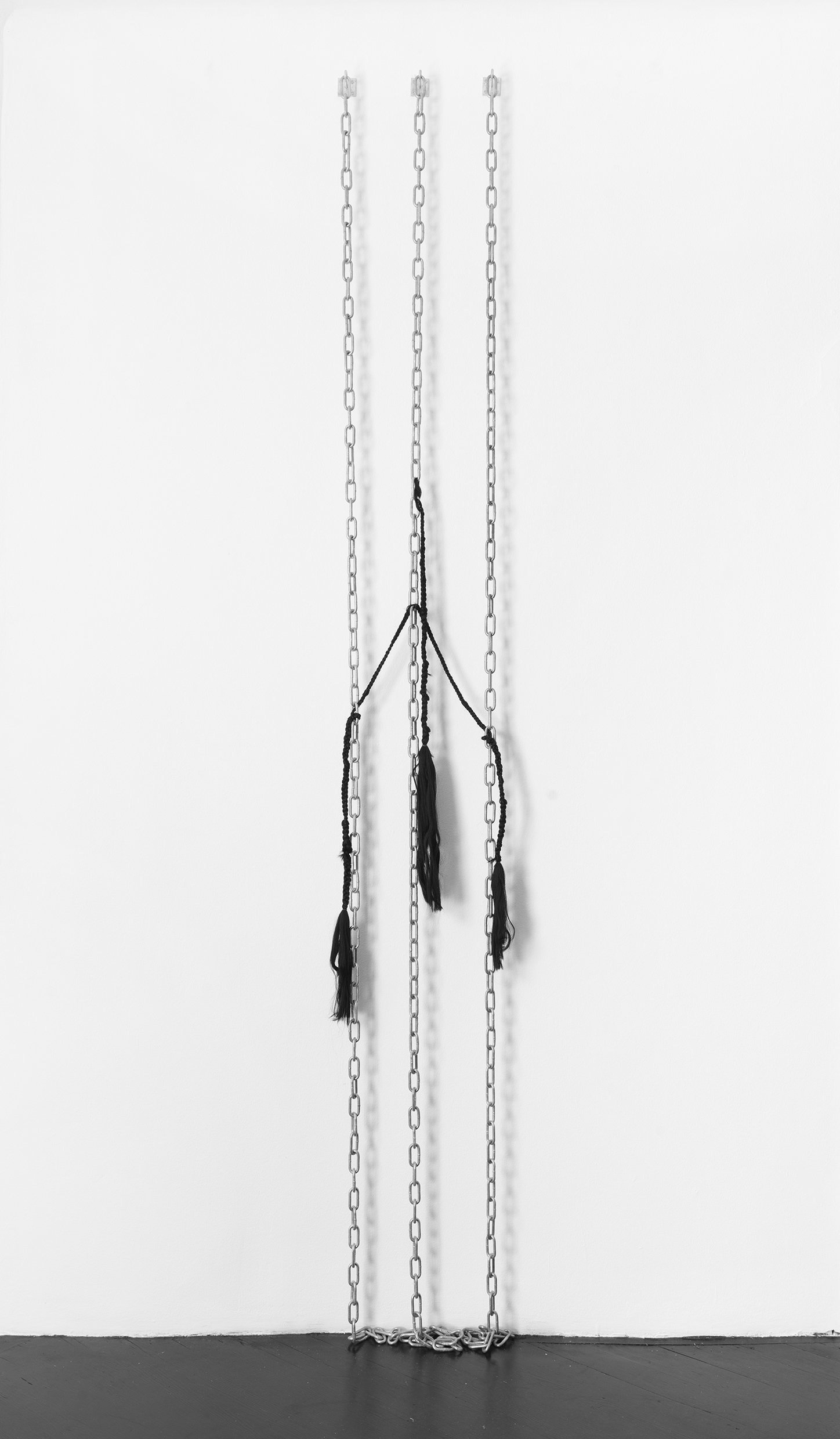 In this short film, you can find out more about the artist, the work of art and the initiative Junger Ankauf
Elephant Memory #27, 2019, synthetic hair, galvanized steel chains, galvanized steel hooks, 400 × 45 × 5.5 cm
Elephant Memory #27 combines braided, black synthetic hair with three weighty steel chains; two materials that couldn't be more different in their look and feel. The title of the series Elephant Memory, which itself comprises a multitude of chains and chain arrangements, refers to female elephants and their herds. The animals develop close bonds to other members of their species, make friends, and grieve them when they pass away. With this image Stingily refers metaphorically to the women in her own family and the individuals' interconnectedness with one another. The Kanekalon hair—a central object in Stingily's oeuvre—is a feature of Afro-American hairstyles and thus also a sign of the culture and identity. As a child, Stingily spent many hours at her mother's hair salon and sees the act of braiding hair as a meditative process. The braids with frayed ends generate an image of a fragmentary presence of the body at the same time that they trigger associations with jewelry and fetters.
Back