Editions
Back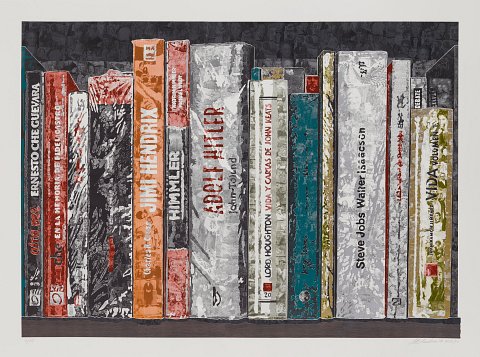 Edition Marcel Odenbach:
The Library of Babel, 2020–21
out of stock
Edition created on the occasion of the 2021 Wolfgang Hahn Prize
Signed and numbered, each collage was made individually and is unique.
Material: Collage on screen print (7-color), 410 g/m² acid-free and age-resistant mat board
Dimensions: 102.5 × 137 cm
Edition: 15 + 7 A.P.
The sequence of books depicted in the edition, whose title refers to Jorge Luis Borges's The Library of Babel, appears as if taken from a tale of Magical Realism. The compilation of literary works, which seems odd in terms of content, is based on a photograph by this year's Wolfgang Hahn Prize winner, Marcel Odenbach (b. 1953). Almost like an anthropological study, the selection of works he found in a bookstore in Bogotá depicts an entire spectrum of political and cultural history of humanity. Strange at first glance, yet upon second glance we notice the selection is based on a system, namely an alphabetical one. It's an unexpected turn that Che Guevara, Jimi Hendrix, Adolf Hitler, and Steve Jobs come together in this way without judgment. Several further notable personages can also be discovered in these unique collages: in each work the artist has interwoven his Schnittvorlagen (templates) acquired on the occasion of the 2021 Wolfgang Hahn Prize with the picture background via collage to create an "intertext" connecting the past and the present and perhaps also pointing to the future.
Price per collage (incl. 19% VAT): 7,600 euros
The edition comes in a portfolio. The price does not include additional packing or shipping costs. The editions may be picked up in person or by an individual authorized by the purchaser. The Gesellschaft für Moderne Kunst does not provide additional packing or shipping services. Please see the enclosed order form for ordering options and conditions.
Back